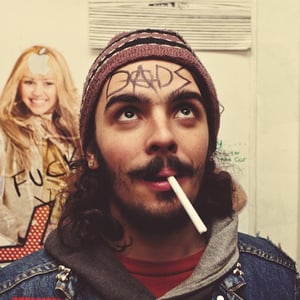 $

18.00
About
Dads are a two-piece emo/punk band from New Brunswick, NJ. They will be releasing their first proper full length entitled American Radass (this is important), which was recorded at Format Audio (My Heart to Joy & The World Is…) by the amazing Ryan Stack. Dads will be performing at I Got Brains! Fest in August and will be touring the entire US throughout the fall.
Tracklist
1) If Your Song Title Has The Word "Beach" In It, I'm Not Listening to It
2) Get to the Beach!
3) Honestly, Chroma Q&A
4) Aww, C'mon Guyz
5) Shit Twins
6) Grunt Work (The '69 Sound)
7) Groin Twerk
8) Big Bag of Sandwiches
9) Bakefast at Piffany's
10) Heavy to the Touch (think about tonight, forget about tomorrow)
PRE-ORDER CONTEST
One random pre-order will be selected to receive a test press of American Radass (this is important).
THIS IS A PRE-ORDER
The official release date of this record is August 7, 2012. The records will be shipped a week before the release date and as the date approaches we will be emailing all the wonderful people who have pre-ordered the record a download code of American Radass (this is important).
Availability
Blue Swirl (out of 100) - 0% in stock

Sold Out

Ivory (out of 200) - 0% in stock

Sold Out

Black (out of 200) - 0% in stock

Sold Out

Coke Bottle (out of 300) 2nd Pressing - 0% in stock

Sold Out

Beer (out of 200) 2nd Pressing - 0% in stock

Sold Out

Wine (out of 300) 3rd Pressing - 0% in stock

Sold Out

Clear w/ Random Splatter (out of 200) 3rd Pressing - 0% in stock

Sold Out

Creamsicle (out of 200) 4th Pressing - 0% in stock

Sold Out

Root Beer (out of 300) 4th Pressing - 0% in stock

Sold Out

Maroon (out of 500) 4th Pressing - 0% in stock

Sold Out

Vinyl Bong (out of 200) 5th Pressing - 0% in stock

Sold Out

Clear w/ Black Smoke (out of 800) 5th Pressing - 0% in stock

Sold Out

Peppermint (out of 100) 6th Pressing - 0% in stock

Sold Out

Translucent Green (out of 900) 6th Pressing - 52% in stock